Our charts are updated daily after our core data sets are updated. In order to interpret the numbers and discover trends, we recommend looking at charts that show a time series to make up for occasional data anomalies and reporting backlogs. For that reason, 7-day average lines are also helpful when analyzing charts.
United States Overview
On January 16
14-day trend
2,015,414 new tests
215,449 new cases

126,139 currently hosp.

3,695 new deaths
Cases are rising in 2 states, staying the same in 20 states, and falling in 34 states.
For every state, we calculate the current seven-day average of cases, and compare that to the seven-day case average of the previous week. States cases are considered rising if that change is over 10%, staying the same if between 10% and -10%, and falling if below -10%.
The national picture over time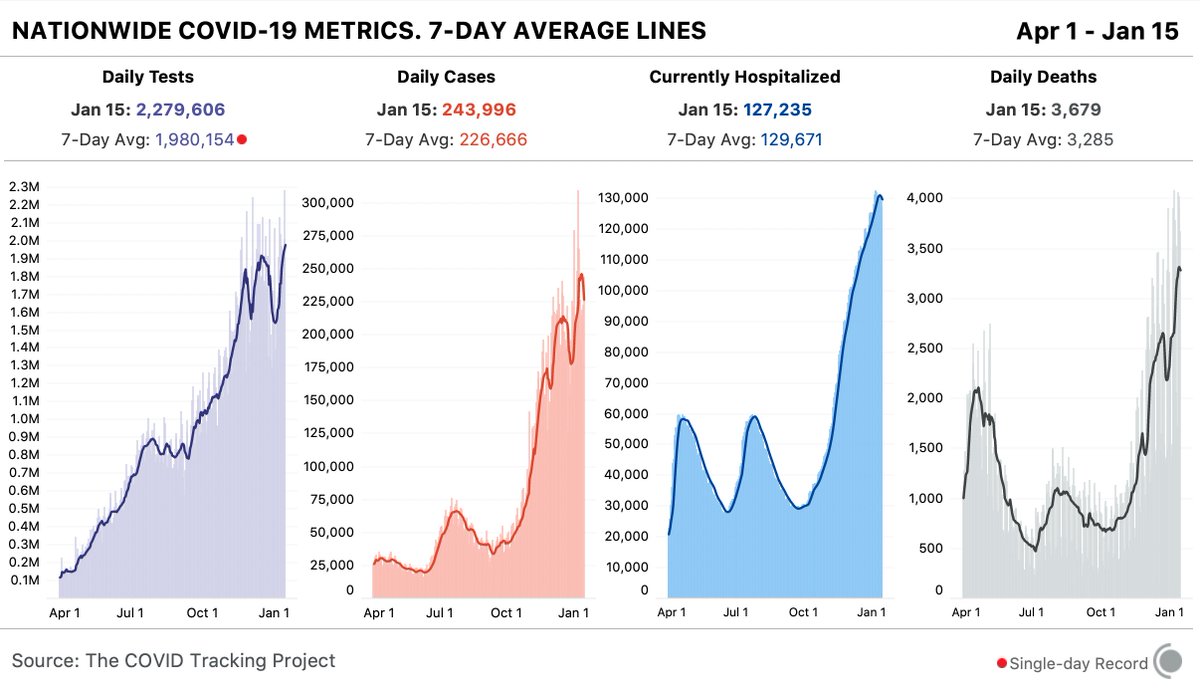 Our chart gallery
Regions displayed in our charts are defined by the US Census. Population estimates used in per capita charts are also from the US Census: we use the American Community Survey 5-Year Estimates for 2019.
These charts are updated daily after our core data sets are updated. You are free to use these charts in accordance with the Creative Commons Attribution-NonCommercial 4.0 International License and for any use in support of journalism, healthcare, medical research, and public health research. Please attribute The COVID Tracking Project at The Atlantic and include the Creative Commons license information. See our data license and our Terms and Conditions for more information.